Southwestern Yakutia
About Gross Region
This region includes our Gross and Taborny operating mines, as well as our Tokko project.
The nearest regional protected natural area is Charuoda nature reserve located approximately 10 kilometers from our mine site.
The nearest federal protected areas are the Vitimsky and Olekminsky reserves.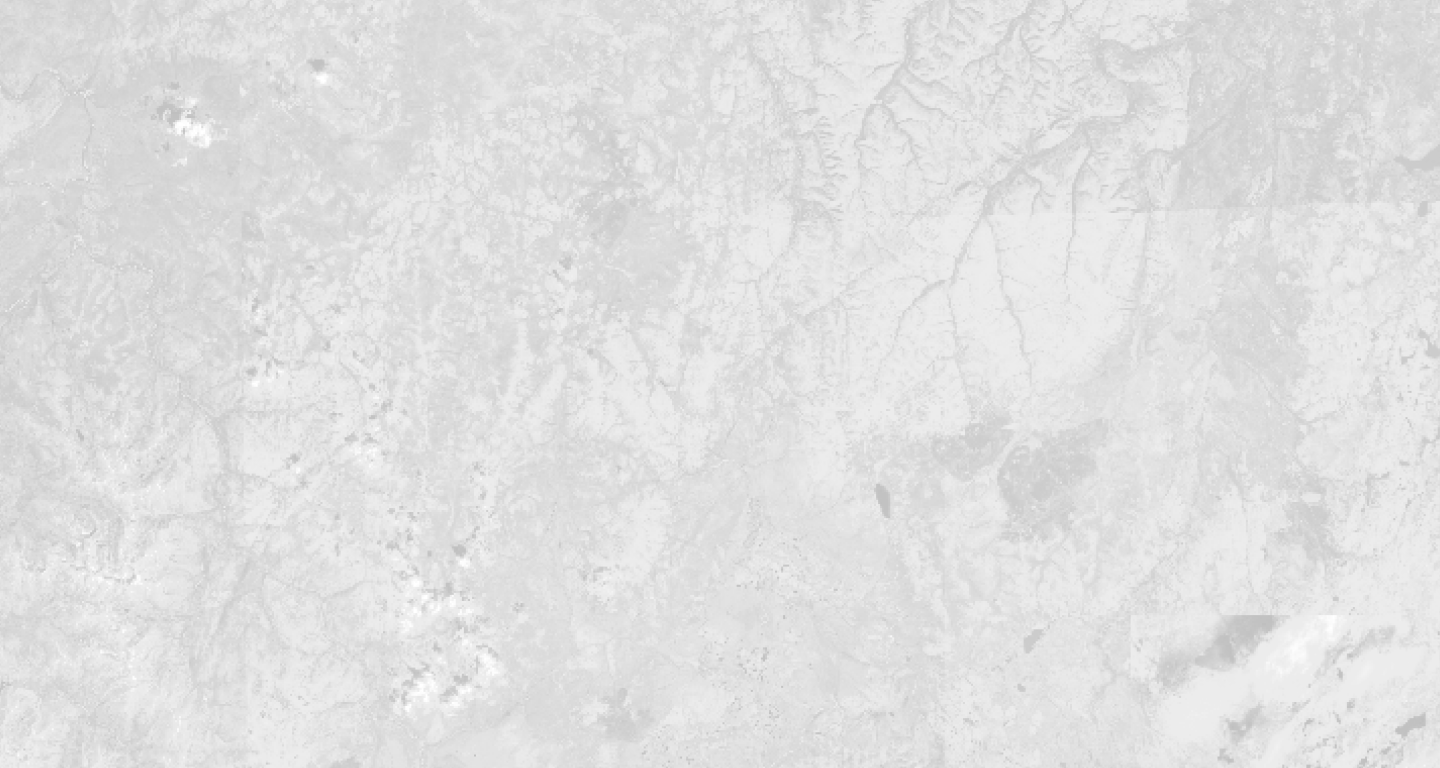 10 km
from Charuoda nature reserve
150–200 km
from the nearest federal nature reserves
Biodiversity
The South-Siberian Taiga next to our gold producing region is home to
species of vascular plants, moss, and lichen as well as
animal species
Plants
Our gold deposit is located in deciduous woods and woodlands dominated by larch, vaccinium and ledum with a prominent moss and lichen layer. Mountain slopes are home to dwarf pines, alder trees and dwarf birch.
Animals
This area is home to typical taiga animals, such as Siberian chipmunks, sables, stoats, spotted nutcrackers, bramblings, Pallas's rosefinches and three-toed woodpeckers, as well as tundra dwellers and other more common species, such as viviparous lizards, foxes, common buzzards, and cuckoos.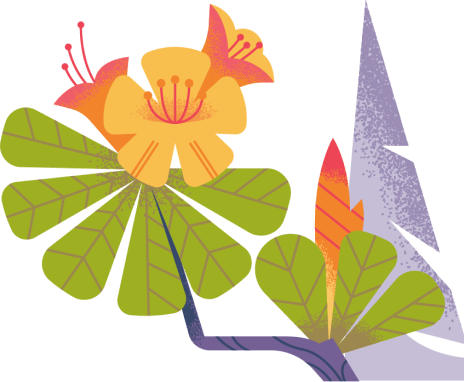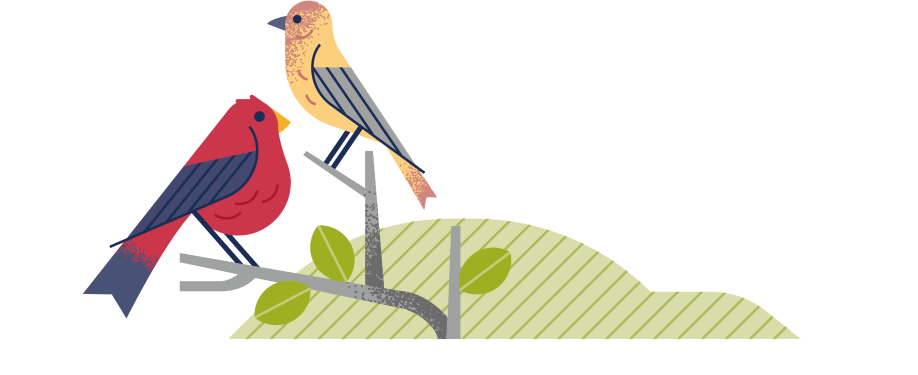 Biomonitoring
We conduct biological monitoring to evaluate the biodiversity and abundance of plants and animals in the areas surrounding the Gross Region.

Through research, we understand current plant and animal environment, identify vulnerable species, and develop plans to preserve and reintroduce animal populations.
We are conducting a scheduled biodiversity monitoring project at Gross in 2021
Biodiversity research areas
Within each area:
Plant and animal studies are conducted
Even the slightest changes are documented
We monitor populations of species included in Russian Federal and Sakha Red Lists.
We establish monitoring baselines as points of reference for future studies.
Key phases
1

Field studies

Research subjects in the Gross area:
Vertebrates: mammals, birds, reptiles, and amphibians
Terrestrial invertebrates
Plankton and benthos
Plants and mushrooms
Area inspection:
Animal trail research
Soil, and water sampling
Identifying key habitats
Compiling descriptions of plants and animals
Photo shooting of species and study progress
2

Laboratory processing

Sample analysis:
Herbarium definition
Evaluation of soil and water samples
Animal counting
Environmental mapping
Creating lists of protected and vulnerable species
Identifying and establishing key points for future monitoring
Creating lists of plant and animal species
Results
Biomonitoring in the Gross area is just one of many steps Nordgold is taking to uphold international standards in environmental protection.

We would like to live in a world full of diverse and fascinating creatures and plants, and to preserve our nature for future generations. This is one of the biggest commitments of our thousands-strong team
Return to asset map
Rhododendron aureum
Flowers:
golden yellow, 5 cm wide, in clusters
Protection status:
vulnerable
Rhododendron aureum
Evergreen shrub common in mountainous areas of Siberia and the Far East. Grows near the deposit on medium slopes, in rocky areas and in dwarf pine woods 1,100-1,200 meters above sea level. It is an endangered species under protection in Yakutia.
Dwarf pine
Pinus pumila
A small shrub-like tree with a branchy trunk often squished into the ground.
Grows slowly and can live up to 250-300 years.
Very prominent in the medium and high slopes around the deposit. Its cones are rich in starch and sugar and are a staple food for local animals.
Hericium coralloides
Where can you see it:
these mushrooms usually grow on the same spot in July August every 2-5 years
Fruit body:
12-30 centimeters wide
Protection status:
endangered species
Hericium coralloides
An unusual mushroom that is difficult to confuse with other mushrooms. Its fruit body resembles a coral. It grows on dry tree stumps and fallen deciduous trees.
It is considered edible when young, yet collecting it is not recommended as it is an endangered species included on the Yakutia Red List.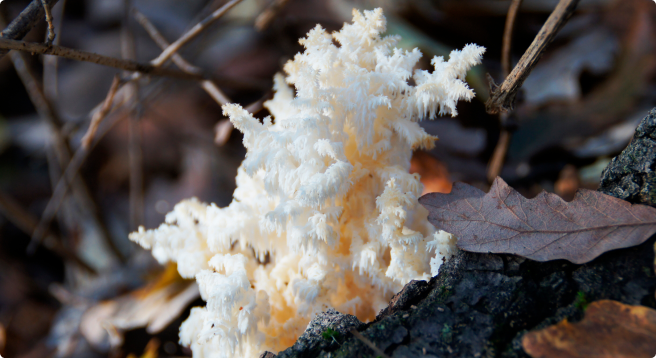 Brown bear (Yakutia bear)
Litter:
2 cubs on average
Population density:
~1 per 100 square kilometers
Ursus arctos
The largest land predator in Yakutia. Reaches speeds up to 50 km/h, climbs trees and swims well. Can often be seen in mountainous taiga where it prefers dwarf pine valleys and slopes. Enters its den in late September or October and comes out of hibernation in late April or early May.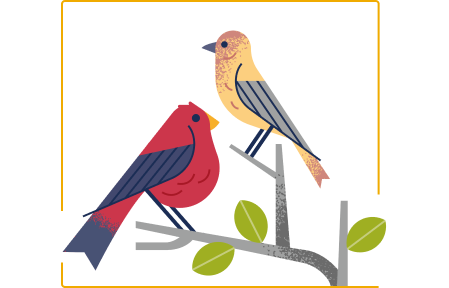 Pallas's rosefinch
Size:
similar to a sparrow
Male exterior:
raspberry pink with brownish back and wings
Female exterior:
reddish gray with white belly and red uppertail
Carpodacus roseus
A small bird the size of a sparrow.
A typical Siberian species. It can be found near the Gross Region in dwarf pine thickets and deciduous woodlands where it feeds on the seeds of evergreen trees. A male and a female form a bond lasting several years. The females lay up to 6 blue eggs.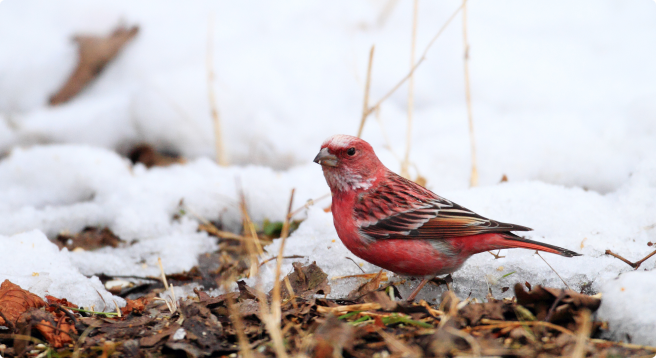 Siberian weasel
Population density:
0.012 per square kilometer
Mustela sibirica
A typical taiga animal. A small weasel, auburn-yellow or auburn-red in summer, with a brown head and whiskers. In Yakutia, Siberian weasels can be met on floodplains and lake shores; it is a rare guest in the forest. Its natural predators include large owls, sables, foxes, and wolverines. Stays away from human settlements.
Mountain hare
Population density:
0.1-0.2 per square kilometer
Lepus timidus
Mountain hares are common all over the area surrounding the mine. They prefer sparse, felled, and burned forests with well-developed shrubs or grass. In spring and summer, they feed on grass, in autumn they prefer shrubs, and in winter, they look for tree bark and sprouts.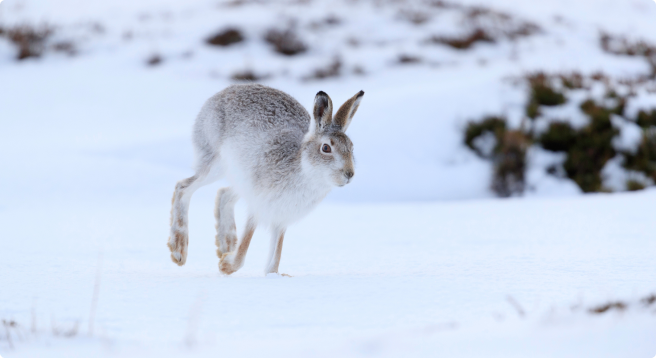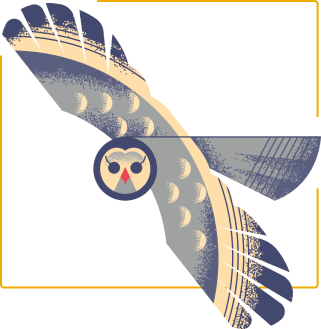 Ural owl
Exterior:
light with dark dots and stripes, especially on the chest.
Strix uralensis
A large owl. Can be seen in fir and deciduous valley woods and woodlands where it feeds on small rodents, shrews, and birds. Active at night, dawn, and dusk; may also be active in daytime in winter and during the mating period. Lives in abandoned predatory bird nests in the trees. Lays 2-4 white eggs.