Nordgold — A Low Cost Producer
A commitment to operational excellence,
efficiency and cost control
Key Indices

Outlook

Peer group comparison

How we do it
One of the lowest All-in Sustaining Costs in 2015 compared to peers
Operating Cash Flow up against backdrop of falling gold price
Free Cash Flow achieved in 2015 while investing in construction of Bouly mine
One of the lowest All-in Sustaining Costs in 2015 compared to peers
Operating Cash Flow up against backdrop of falling gold price
Free Cash Flow achieved in 2015 while investing in construction of Bouly mine
Business System of Nordgold
Business system of Nordgold has been central to our success in becoming a low cost producer. It aims to establish best in class sustainable processes at our operating assets, ensuring they are as efficient, low cost, sustainable and above all, safe as possible.
Key components of BSN:
Platform for best
practice sharing
Operational
improvement
Costs
reduction
HSE
Support
Workforce development
and training
Key principles / directions:
1
Constantly seeking for mining fleet efficiency improvement, which includes excavators, drill rigs and trucks.
2
Ensuring full operational and management control across the production value chain with best-in-class technology.
3
Making detailed productivity analysis for comparable open pit operations and mining equipment.
4
Identifying opportunities incorporated into a business improvement plan.
Efficiency case studies
Lefa turnaround
programme
Cyanide consumption reduction
at Berezitovy
Overall equipment
efficiency
Key success factors of the turnaround programme:
Headcount reduced from 2,300 to 1,500 employees, as well as overtimes.
Mine planning, grade control improvement at new pits — Firifirini, Kankarta North.
Sustainably lower costs of logistics.
Accurate planning to reduce overstock.
Improvement of overall efficiency of equipment (OEE).
Control over SG&A, including travelling costs.
Lower reagent consumption due to improved control and process automatisation.
The Lefa turnaround programme was successful following an in-depth, detailed analysis of all the factors affecting the operational performance of the mine, combined with the resulting implementation of a series of corrective measures put in place by our experienced management team. Nordgold continues to monitor Lefa performance closely and to invest further in its development.
Having analysed our studied breakdown of equipment costs, we concluded that the most significant reductions could be made by improvements in the following three performance metrics of loading and hauling units. We work continuously to improve and optimise our performance in these areas: availability ratio of staff and equipment, utilisation of available time, productivity rate.
We run detailed productivity analysis for comparable open pit operations and mining equipment

We continue to identify opportunities and incorporate them into our business improvement plans
Examples
Neryungri
Loading time efficiency improvement
Excavators availability and utilisation analysis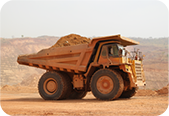 Lefa
Hauling time efficiency improvement
Trucks availability and utilisation analysis